Adrian Bellue Workshopkonzert powered by Furch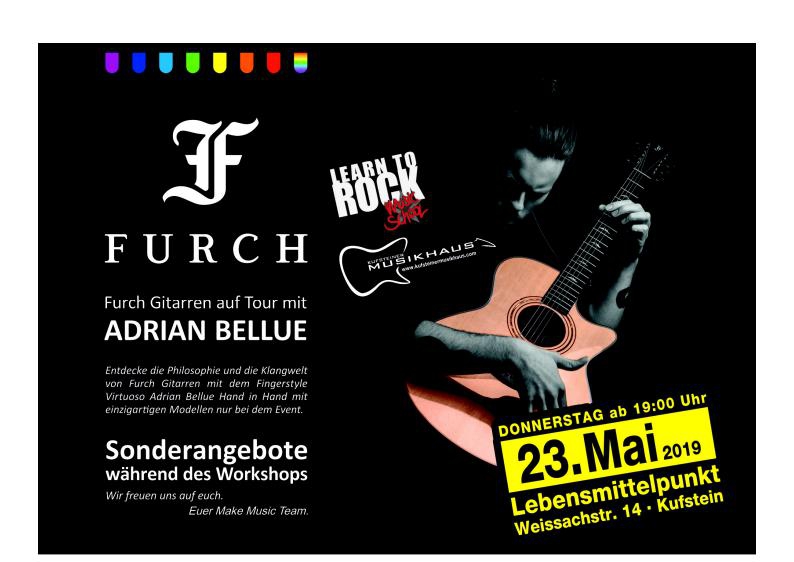 DetailsBased out of Northern California, Adrian Bellue is an international performing and recording artist that utilizes unique fingerstyle techniques with acoustic and electric guitar to compose beautifully intricate and progressive music. Having recorded his second solo album with acclaimed guitarist and producer Antoine Dufour in Montreal, Adrian inspires audiences around the world with his captivating and dynamic performances. Now approaching his third release, Adrian debuts his new double disc with CandyRat Records, recorded and produced by Antoine Dufour, featuring solo acoustic finger style and his new trio on a second disc.
Am Donnerstag 23.5. laden das Kufsteiner Musikhaus und Learn to Rock Musicschool zu einem Konzertabend der besonderen Art…Adrian Bellue zeigt, was auf der Fingerstyle Gitarre so möglich ist – und in Zusammenarbeit mit Furch Guitars ist es gelungen, diesen tollen Gitarristen für einen Abend nach Kufstein zu holen.
Wo?
Lebensmittel – Weissachstraße 14, 6330 Kufstein
Wann?
Donnerstag 23.5.2019
Uhrzeit?
Einlass 19.00
Eintritt?
Freiwillige Spenden
Zum reinhören:
https://www.youtube.com/watch?v=3d1hiiPzl9A